---
In my latest blog post, I mention that I am a small, hometown girl. Moving to Stevens Point was a huge leap for me. It was full of new people, bigger opportunities, and a ton of adventures! With this said, there are so many amazing places in this area that have contributed to my well being (mentally and physically) during the past 3.5 years of living here. So, here are some of my "must visit" places if you are traveling to (or living in) the Stevens Point area broken up into the C's of life; Cuisine, Caffeine, Cold-Ones, and Culture.
Cuisine
Let's be honest, food is the at the heart of all things good. It is a way to express yourself, it is the core of nutrition, and is a great way to socialize with others.
My all-time favorite place in Stevens Point to eat is at The Wooden Chair. Here, you will be welcomed by a homestyle smell of coffee and homemade baked goods, a friendly smile, and a blast from the past in downtown historical Stevens Point. Antiques fill the walls, the bricks in the wall presence you with history, and the mis-matched chairs bring a level of comfort, only the food here can compete with. My favorite menu item for lunch is the Homemade Chili, and my favorite breakfast item is their (unpronounceable) BROTOMUSHEPPERASHEESE, but you can't go wrong with anything from the menu – all of their food is fresh and fulfilling.
PJ's at SentryWorld – you have to try the life-changing cheese curds, they taste like cheesy garlic bread! The atmosphere here is dress-it-up, or dress-it-down, open to the public and business professionals. Sit at the bar and enjoy a Blackberry Basil Mojito, or dine in and order appetizers and a meal!
If you are craving pizza, Polito's Pizza is home of the big-slice. This hole-in-the-wall shop is downtown Stevens Point and is inviting to all. They have your typical cheese, pepperoni, and supreme pizzas here, but the possibilities here are endless. They have a Macaroni and Cheese pizza, a BBQ Steak and Fry pizza, a Gyro pizza, and a Chicken Quesadilla pizza – say what? Also, a little side note to all – GET THE GARLIC KNOTS, trust me.
Caffeine
Coffee is the nectar of the Gods, am I right? While there isn't enough space to write about my love of all things coffee in this area, I will list some of my favorite coffee hot-spots.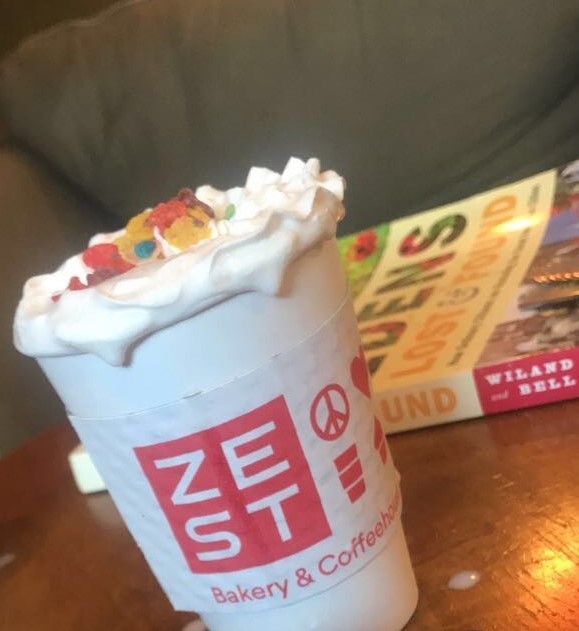 Zest Bakery and Coffeehouse is by far my favorite place to order coffee. It's located close to the UWSP campus making it a regular hangout place for me! Their specials menu changes roughly every month with themed drinks. The theme is never the same, ranging from "It's the Great Latte Charlie Brown", to "Happy Pride Month" – featuring my favorite drink, "Gay Best Friend". This drink is made with Fruity Pebble milk, lavender, white espresso, whipped cream, and Fruity Pebbles. Where on Earth could you find a drink to compete with this? Trick question – you can't. Don't leave without trying a baked good either, all of them are incredible!
Another coffee go-to is The Coffee Studio in downtown Stevens Point. Y 'all, they have flavored whipped cream, what a time to be alive. They also have mouthwatering cinnamon buns that people line up for on Friday mornings! There is something to be said about the atmosphere and community feel of this shop too. They have local artists display their work for a month at a time. Getting to see the creativity and uniqueness each artist brings to the studio creates this sense of community, and that only escalates when they have local artists perform live music!
Near and dear to my heart is Homegrown Café located in the Dreyfus University Center at UWSP. I was one of six student managers for three coffee shops on campus, Homegrown Café being one of them. The name says it all; all of the products sold here are from local Wisconsin businesses, from the bottled beverages, to the smoothie base, to the coffee beans themselves. The staff here is incredible, the baked goods are made fresh daily, and the drink special recipes are created weekly by student workers – the creativity is unreal!
Cold-Ones
Central Wisconsin is known for their Craft Collective. This includes breweries, wineries, and distilleries, many of which are in the Stevens Point area. Naturally, there are many bars, restaurants, and other organizations that have incredible beers, wines, and spirits in the area as well!
Sunset Point Winery is a great place to grab a glass (or three) and relax in the ambiance of a warm and cozy tasting room. With roughly 15-20 wines to choose from at all times, they focus on staying local as much as they can. Blue Nova uses blueberries from Chet's Blueberry Farm, the cranberry wines use cranberries right from the Wisconsin Rapids area, and Marquette grapes (grown in Wisconsin) are popular as well! While you can't go wrong with any of the wines, you have to try the Dark Side of the Moon. This is an unfortified port, dessert wine. You get the decadent taste of dark chocolate with a smooth subtle taste of raspberries.
I recently visited District 1 Brewing Company and was amazed at the relaxed and inviting vibe. They offer select craft beers from other breweries, as well as, serve their own concoctions. The Blue Rad is unlike any beer I've ever had (note: I am not a big beer drinker). This shandy is a blueberry infused wheat ale with lemonade! It is so refreshing and comes with actual blueberries in it! One can sit at the high-top bar and relax with one another, or can take a more adventurous approach. District 1 offers picnic bench seating and tables for a serious game of What Do You Meme, Go Fish, or Cards Against Humanity. They also have bean bag toss (or as we Wisconsinites call it; Cornhole), pinball machines, ping pong, and much more! They have been hosting events such as yoga, live music, and invite catering companies in (what's better than beer and tacos?).
If you are looking for a true Wisconsin Bloody Mary, you have to take a trip out to Rusty's Backwater Saloon. They make their bloodies from scratch; topped with garlic, banana pepper, a pickle, pepperoncini, a beef stick, and cheese whips, it's a Wisconsinites dream! The food is great too! You can get French fries, cheese curds, and Texas toothpicks to compliment your drink! The haul from Stevens Point to this countryside bar is well worth it!
Culture
There are so many amazing things to do and see in the Stevens Point area! While I am not a huge outdoorsy person, I have found joy in so many community events and attractions.
The most well-known outdoor activity for college students is Schmeekle Reserve. If you aren't from here, you just read that word 14 different ways; it's pronounced sh-mee-k-lee. It neighbors the UWSP campus and is an excellent place to go for a walk, set up a hammock, or do some kayaking. This is the perfect way to "escape" from the city lifestyle and enjoy the wooded surroundings. As I said, I'm not personally a big outdoorsy/nature loving person, but this is my escape from the stresses of college and life!
There's nothing like going to the square downtown on a Saturday morning for the Farmer's Market. Local venders offer anything and everything. Fresh veggies, fruit, and herbs, beautiful flower bouquets assembled on the spot, and baked goods that taste as though they came from France. The warm sun beats on your back as you wait in line for your eggrolls and crab Rangoon (if you know, you know… if you don't, I suggest you find out), dogs are everywhere, and kids splash in the square fountain. It's a true storybook experience!
Is shopping a culture? Because I could get behind that. I could spend days at local shops in the Stevens Point area just shopping! I won't go on about all of the shopping opportunities, because there are too many to list, however; here are some of my favorites: Diversi-tea, Antique Up, and Call it New/Call it Antique. Yes, I have an old soul.
Diversi-tea sells loose leaf tea, cooking oils, and vinegars. Their wall of tea is for sniffing and tasting! My go-to is the Blueberry Lavender Rooibos, but there are roughly 150 to choose from and all of them sound so good! "Cupcake", "Apple Crisp", "Hibiscus Breeze", and "Fireside Smore", how could you go wrong?
Antique Up is an antique mall located on Church Street in Stevens Point. Filled with antiques, re-purposed goods, and handcrafted pieces, it's a Joanna Gaines want-to-be's dream come true. Each "booth" has something different to offer, I personally love the rustic signs made by Coffee & Gossip.
Call it New/Call it Antique offers new pieces, as well as, antique pieces. They have gently-used consignment clothing, books, home décor, and three stories of antiques! This is the perfect place to get gently used items for yourself, and your home! It is also located right downtown in Stevens Point, so it's a perfect place to check out after the Farmer's Market!